Two new room integrity test kits arrived in our offices today, for our 2 latest additions to the Aspect Fire Solutions Team. Welcome Dave & Connor.
Room integrity testing of a protected enclosure is vital to the ensure the system, is able to retain the extinguishing agent for a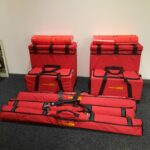 minimum of 10 minutes to ensure the system can suppress a fire and prevent possible re-ignition.
Room Integrity testing is carried out at commissioning stage and throughout the life of the system as part of the service and maintenance
Room integrity testing should be carried out once per annum or when any modifications to the room or room perimeter are made.
If you would like any further information on room integrity testing or indeed any information on fire systems, please do not hesitate to contact us, call 0845 054 0516 or fill out our online contact form on this website.